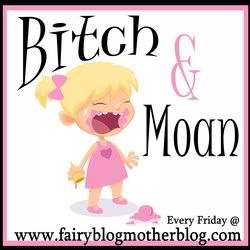 Annette at Fairy Blog Mother Blog has this meme every friday, this is my first time joining it, and it looks like fun!
Time to bitch and moan and vent out all your frustrations before the weekend.
Grab the bitch and moan button and link up your blog post on the linky at
Fairy Blog Mother Blog
.
So, what pissed you off this week?
My husband.
He can be such an ass. Even when he's not trying to be, he is. Seriously, stop being a dick, I know it comes naturally for you, but stop already. Ass Clown.
Dr. Freakin Phil.
Well not him this time, but his show in general. The SAHM's vs. the Working mom's show was ridiculous. The chicks on there pissed me off so bad! I'm a SAHM and it was another SAHM that made me mad the most! She said that if you can't make time for your kids (STAY AT HOME) then you shouldn't have them. WHAT? REALLY? I'm glad your living in lala land chick, 'cause where I come from people have to work for a living!
My son's bodily functions.
AGH! I'm so sick of poop! I don't know how the hell he does it but everyday at nap time for the last 4 days, he has gotten his diaper and pants off and shit on his pillow. Why must he do that? I only have 2 sets of bed sheets for his room. I'm washing a full set of sheets everyday. Grr.
I guess that's all that pissed me off this week. I'm surprised I can't think of more.